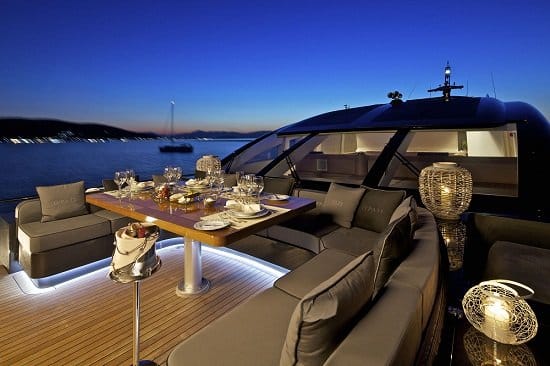 If there is one symbol of wealth and extravagance that stands above all others, it is the private yacht. What many of us do not think about, however, is that there is a hierarchy within the private yacht world. Some are even more expensive than others, and at the very top of the scale we find some yachts that are truly jaw-dropping in the money they command…
Take, for example, the Lady Moura – a $210 million yacht owned by billionaire Nassar Al-Rashid. With space for thirty guests, it is a very comfortable and roomy boat – and, indeed, was the ninth largest yacht in the world when it was constructed in 1990. If the idea of eight yachts that are even bigger than this one is taxing your mind, you will probably be surprised to learn that today, the Lady Moura is only the twenty-eighth largest yacht in the world!
Let us move on to one of the larger yachts: a $350 million number called Dubai, an appropriate name for a vessel that looks more like a city than a boat. IT has changed hands a number of times, but you can bet that each of those owners was proud of the spa, pool and helipad. A glass staircase rounds off the extravagance.
Russian playboy Roman Abromavich owns a yacht called the Eclipse; the exact cost is uncertain, with estimates ranging from half a billion to one and a half billion dollars. A good chunk of that money will have been spent on the private defence system, which not only halts intruders – it prevents people from taking photographs of the yacht. That's one secretive party venue…
And yet, none of these yachts is the most expensive in the world. Prepare to meet a yacht that is even more extravagant than all of these put together… the $4.8 billion History Supreme. The owner is anonymous; all we know for sure is that he is a Malaysian businessman who somehow afforded to purchase a yacht decorated with gold, meteorites and even dinosaur bones.
To round of this list, we must give an honourable mention to Nigel Gee's Streets of Monaco. It is expected to cost one billion dollars – but instead of dinosaur bones, that money will be spent on making the yacht as big as possible. The concept art looks like someone built a small town on an aircraft carrier.