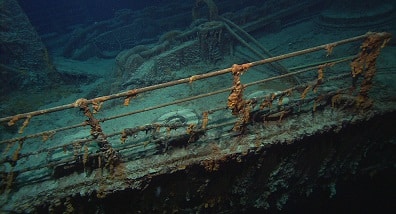 Most people think the Titanic was the worst ever sea disaster. Whilst it's the most notorious, many other terrible catastrophes have happened at sea the world over, during both war and peacetime.
MV Wilhelm Gustloff:
This German ship was hit by three torpedoes in 1945, whilst transporting civilians, military personnel, and Nazi officials over the Baltic Sea to escape the Red Army in East Prussia. The ship sank in well under an hour and around 9,400 people were killed out of more than 10,600 on board, making this the largest loss of life ever recorded at sea.
MV Doña Paz
On December 20, 1987, this Philippine-registered passenger ship collided with the MT Vector, which was carrying gasoline. A massive fire broke out and the ship went down, killing around 4,386 people with only 24 survivors. This is the worst ever ferry disaster during peacetime.
RMS Lusitania
During World War I, this British ship was sailing between Liverpool and New York, when it was hit by a German U-boat torpedo. It sank in 18 minutes, causing the deaths of 1,198 passengers and crew, whilst 767 survived.
RMS Lancastria
On June 17th, 1940 this British ocean liner, commandeered as part of World War II, was hit during an air raid and sunk, causing more than 4,000 deaths. More lives were lost than in the Titanic and Lusitania disasters put together, however, 2,447 people survived.
MV Goya
During World War II, on April 16, 1945, this German transport ship was carrying at least 6,700 passengers and crew when it was hit by a torpedo launched from a Soviet submarine in the Baltic Sea. It sank within 7 minutes and there were only 183 survivors.
RMS Titanic
The Titanic is one of the most well known maritime disasters. This magnificent cruise ship was supposed to be unsinkable, but after hitting an iceberg whilst sailing to New York it went down and 1,523 people died, with around 713 survivors.
USS Indianapolis
This ship was hit by a torpedo from a Japanese Navy submarine on July 30, 1945. The ship was returning from the US air base at Tinian, after dropping off critical parts for an atomic bomb to be developed for combat. It sank in 12 minutes and about 300 of the 1,196 crew went down with the ship. The rest were thrown into shark-infested, freezing waters, and only 317 survived.