Thorgrip™ Resin Bonded Surfacing
Our Thorgrip™ resin system provides excellent anti-slip and durability.
Once the existing surface has been prepared, the resin is applied and aggregate is then scattered onto the area; once cured, the surface is swept to an even finish.
This type of surfacing is ideal if you are looking to create a rustic or heritage look. You can also customise your surface with a choice of colours, textures and designs. Either natural or pigmented aggregates can be used.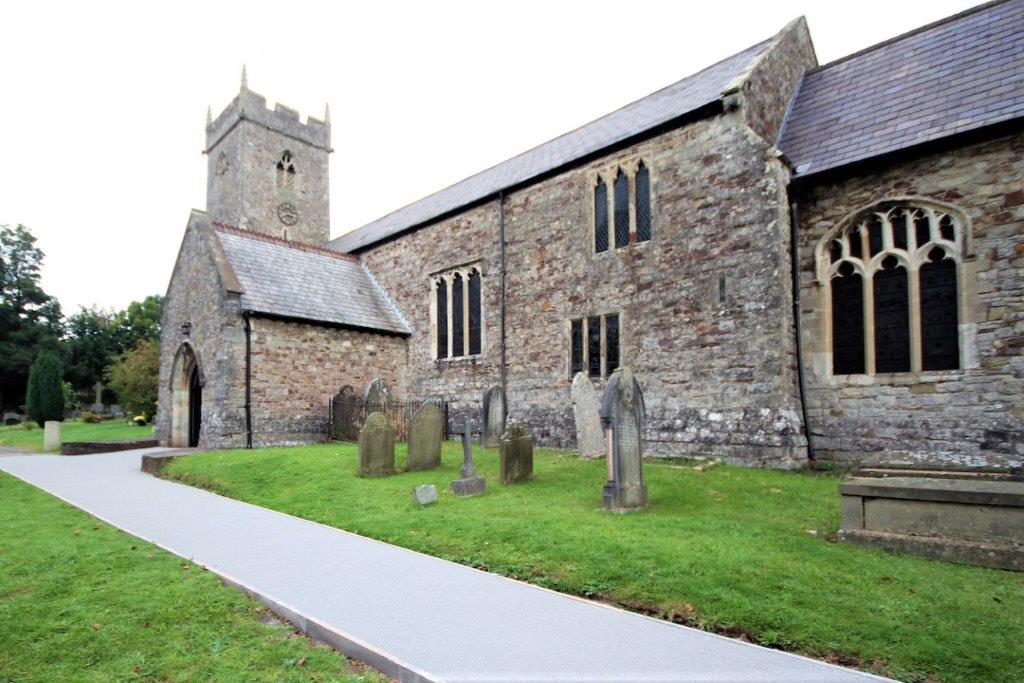 What is resin bonded surfacing?
Our Resin bonded surfaces compromise a mixture of natural aggregates as per your selection with our Thorgrip™ binding resin. Offering an entirely customisable surface, our aggregate selections vary from gravel, sand, and stones in a wide variety of natural and appealing colour combinations. You can see the full selection of colour samples here.
This particular type of surface offers a natural-looking alternative to tarmac or concrete finishes.  This quality gives it excellent applications surrounding different properties or public places of interest such as heritage sites and cathedrals where a traditional look can be applied, or public parks and visitor attractions for a decorative paving alternative.
Application of Thorgrip™
During the expert application of resin bonded surfacing, our team will meticulously place an even layer of our Thorgrip™ polyurethane-based resin. Your choice of custom aggregates or gravel is then scattered across the resin and allowed to cure. Our system is unique because it cures incredibly quickly compared to many resin products, allowing minimal disruptions during the installation process.
Once the resin has cured, most of the gravel will have bonded to the surface, providing a traditional gravel appearance that requires minimal maintenance. The remaining loose aggregate is swept aside to leave you with a finished product.
What are the applications?
This particular surface type offers practical and aesthetic utility across various applications. Due to its slip-resistant and hard-wearing properties, you're likely to find our resin bonded surfacing in the following applications:
Investing in a low-maintenance driveway or car park can save you time and hassle typically spent brushing gravel back into place. Suitable for vehicle traffic, resin bonded driveways offer excellent traction to allow easy access.
Access roads and pathways
As a hard-wearing but natural-looking path design, resin bonded surfacing provides a rustic appearance that can be customised to your liking. Depending on your surroundings, we can cater the colour to complement the environment,
Offering unmatched slip-resistance, resin bonded bridges and access ramps are the ideal solutions for stability and steadiness over uneven terrain.
Podium decks and balconies
With fast installation for shallow surfaces, resin bonded aggregate can add an attractive appearance to your balcony.
Benefits
Due to its long-lasting durability, investing in resin bonded surfacing provides the benefits of low maintenance upkeep for around 15 years. Instead of pushing gravel into sparse areas or reapplying worn down areas, our Thorgrip™ surfacing maintains its appearance through foot and vehicle traffic and most weather conditions.
Whilst the surfacing system isn't as porous or SUDS compliant as its resin-bound counterpart, the surface isn't impermeable. Thortech International can apply additional waterproofing layers to provide a suitable base whilst still offering frost resistance and non-slip qualities in the rain and snow.
Our choice of aggregate materials and colour samples allow you to complement or contrast the surrounding areas to your taste. Whilst resin bonded surfacing typically gives traditional appeal, darker stones and gravel can be used for a more modern look.
Resin-bonded surfacing doesn't have one set style. You can customise and combine aggregates to create a visually appealing design.
FAQs
The cost of resin-bonded surfacing varies greatly depending on your needs and specifications. Several factors influence the cost of materials and services for your new driveway or path.
The area to be covered and the depth of the surface will generally have the most influence over the cost. However, if you are interested in different patterns or shaping within the surface, you may have to pay a premium depending on the design.
The easiest way to find out how much your resin bonded paving ideas will cost is to contact Thortech International Urban. We can provide a competitive price to give you a clear picture of the cost of our services. Get your quote here.
What's the difference between resin bound and resin bonded
Whilst resin-bonded surfacing offers slip resistance and a rustic aesthetic, resin bound surfacing differs in utility and appearance. Instead of applying aggregate after applying the resin layer, gravel is combined with our Thorset™ resin to provide a smooth and modern looking surface.
If your looking for a crack-free, durable driveway or path, resin bound surfacing offers an alternative look and feel to the resin bonded surfaces described above.
Is our resin bonded surfacing system UV stable?
The UV stability of your resin bonded surfacing is essential to maintain its appearance. Certain resin products which are not UV stable will turn brown and orange within a matter of months. This occurs due to reactions to the sunlight and can make the surface look unpleasant.
Our Thorgrip™ resins, just like each of the resins available at Thortech, are all UV stable to provide long-lasting aesthetic qualities.
Enquire about Thortech Urban services now