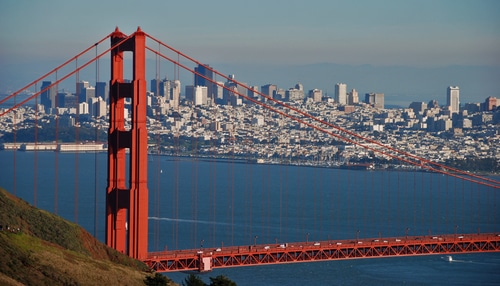 29
People have built bridges for thousands of years, so it's hardly surprising that some of the bridges around the world feature spectacular locations and construction techniques. Five of the world's most innovative bridges ever built include:
Ponte Vecchio, Florence
The Ponte Vecchio in Florence was built in 1345 and various ongoing upgrades added shops and houses along its entire length. This bridge was the only ancient crossing to survive German bombers in World War II and is a much-loved tourist attraction in Florence, popular with tourists and Italians.
Golden Gate Bridge, USA
No list of iconic bridges is complete without the San Francisco Golden Gate Bridge, it's probably the most recognisable bridge in the world. Construction of the bridge started in 1933 but it was not completed until 1937. At that time it was the world's longest bridge and also the tallest suspension bridge ever built.
Banpo Bridge in South Korea
This bridge was built in 1982, but a construction project to revive the area saw the bridge transformed by fountains on either side. The bridge crosses the Han River in Seoul and it's a sight to behold at night when LED lights transform the powerful water fountains into rainbow iridescence. The fountain waters are pumped from the river beneath, so this is also a feat of environmentalism, adding beauty to the city landscape.
Langkawi Sky Pedestrian Bridge in Malaysia
Visitors to the Langkawi Sky Bridge need to take a cable car to reach this pedestrian bridge. The bridge snakes its way above the mountainous Gunang Matchincang range. This is a popular pedestrian bridge for tourists and sightseers who have opportunities to view some of the magnificent rainforests, gorges and mountains in Malaysia.
Helix Bridge, Singapore
This bridge was built to resemble DNA structure. It spans the Singapore River and opened in 2010. The bridge is illuminated by ribbons of LED lights which compliment its unique design.
Other world famous bridges include the London icon Tower Bridge, which is symbolic of medieval England and the Brooklyn Bridge in New York, famed for its inclusion in so many US films and novels.