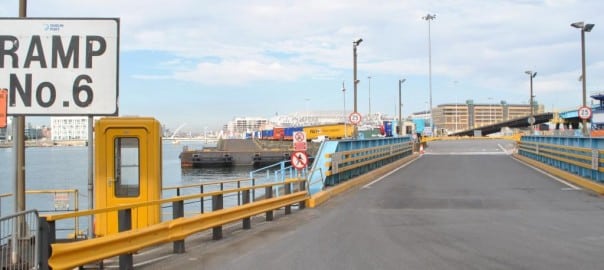 A linkspan is a type of drawbridge, used most often when moving vehicles on and off a water-based vessel and are in operation within most ferry terminals worldwide. They are essentially a ramp from shore to ship, allowing smooth and efficient loading.
Linkspans are particularly useful as they provide excellent flexibility when dealing with
different widths and designs of ships. Many are bespoke products, made to adapt to a particular terminal's needs; enabling many different types of ship to be boarded.
As well as this, using a linkspan is advantageous as they are not adversely affected by changing tidal conditions or movements in water level. Thus, loading a vessel using a linkspan gives the same smooth, easy experience every time – irrespective of ship type or water condition.
If the world of linkspans sounds great to you take a look at our linkspan installation services or give us a call on 029 2048 9100 to find out more information.