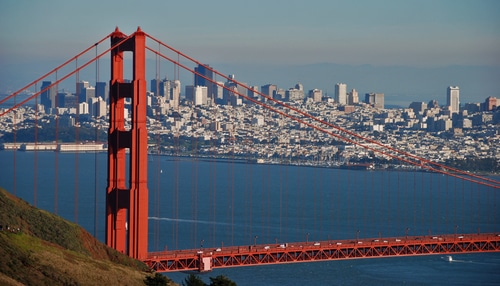 There are many man made wonders in the modern world, and America has it's fair share. When it comes to bridges, however, there is only one that springs immediately to mind. That is, of course, San Francisco's Golden Gate Bridge.
The Golden Gate Bridge spans the Golden Gate between San Francisco and Marin County California a distance of 2.7 kilometres from end to end. This length gave it the title of the longest suspension bridge in the world up until 1965 and, to this day, is still the second longest suspension bridge in the United States, surpassed only by the Verrazano-Narrows Bridge in New York City. Construction started on January 5th, 1933 and was completed on May 27, 1937. Construction was completed sooner than foretasted and under budget, costing in the vicinity of 35 Million dollars, a staggering sum in the 1930s.
previous to the bridge being constructed, the bay had been traversed by a number of ferry services, dating back as early as the 1880s. The now existing Golden Gate Bridge got its first serious proposal by a City Engineer by the name of James Wilkins. In an article posted in the San Francisco Bulletin in 1916, he gave his ideas for a bridge design costing 100 Million dollars and challenged his peers to submit more cost-effective solutions. Joseph Strauss was an engineer that answered the thrown gauntlet with a design that he promised would only cost 17 million, featuring massive cantilevers on each side shore with a long suspension segment in the middle. The design went through revisions and the resulting product cost more than double the boastful initial quote, but many of Strauss's ideas in the original sketches stayed intact straight through to the final plans.
Some interesting facts about the Golden Gate bridge. The Navy had wanted to paint the Golden Gate Bridge black with yellow stripes in order to maximize visibility for passing ships. This idea was vetoed for the now famous colour scheme. The centre span of the bridge is 1.2 kilometres. The Golden gate Bridge sees about 110,000 cars travel across daily in multiple lanes. Recent years have seen the establishment of different levels of toll lanes, including fast track premium toll lanes. The toll gates are 4.3 meters high, limiting the height of trucks that are allowed to pass.
Once a record breaker and still a defining San Francisco landmark, the Golden Gate Bridge continues to be an engineering marvel and an epic inclusion to the San Francisco skyline.