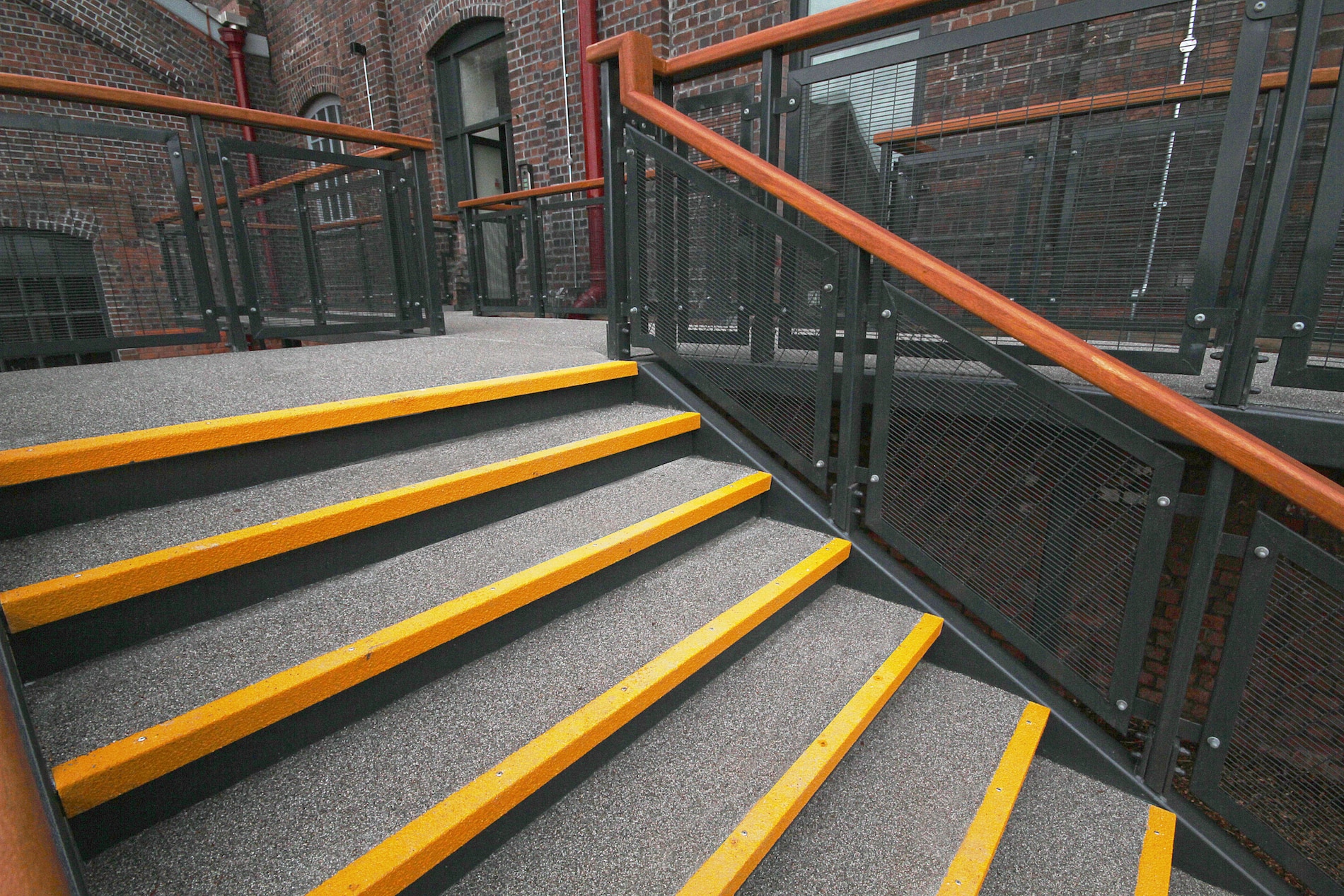 Anti-slip surfacing is essential in all commercial and domestic settings for its ability to help stop slips, trips and spills. These are all a focus of modern health and safety policies, which are a regulated field for businesses, and a topic of interest for anyone with a family at home.
It is worth noting too that anti-slip flooring is mandatory in many commercial environments, and assessors will take a dim view of employers who fail to adequately protect their employees.
The risks associated with non treated floors
With slippery floors, the risk of an accident is high, especially where stairs, corners and carrying of items are involved. If people are wearing slippery shoes or heels, or walking on a slippery floor when it's raining outside, then the risks increase.
Benefits of anti-slip floors and coatings
However, anti-slip coatings help to keep feet firmly planted on the floor, providing grip and traction and preventing painful and potentially dangerous falls.
Testing anti-slip flooring
Manufacturers of anti-slip flooring will use materials that have natural friction, and ridged finishes that aid with grip – much in the way that footwear can do. They will use measures to assess how safe and resistant a floor is to the risk of slips by measuring its micro-roughness and also the coefficient of friction testing.
For the latter approach, a number of tests are used and some are more effective than others. However, only one – the Pendulum Test – is recognised in the UK by the Health & Safety Executive as being of the right standard and quality to reliably assess flooring grip effectiveness under repeatable, measurable test conditions. The same test is also recognised by the UK's Slip Resistance Group – the UKSRG.
Finding a reputable installer
When looking to install anti-slip flooring, it's well worth consulting a specialist flooring provider who can provide advice on the right type of flooring for your premises, needs, traffic and budget. This means that you will end up with the right product, assured to the right quality standards and in line with any business compliance regulations.
For businesses, it is also worth investing in training for staff who regularly use the premises, so that they know how to move and handle items safely and whilst minimising risks. Footwear regulations are also valuable to make the most of the new flooring that you have invested in. Together, these approaches will help to maintain an excellent health and safety record that is valued by your staff, customers and the regulators alike.