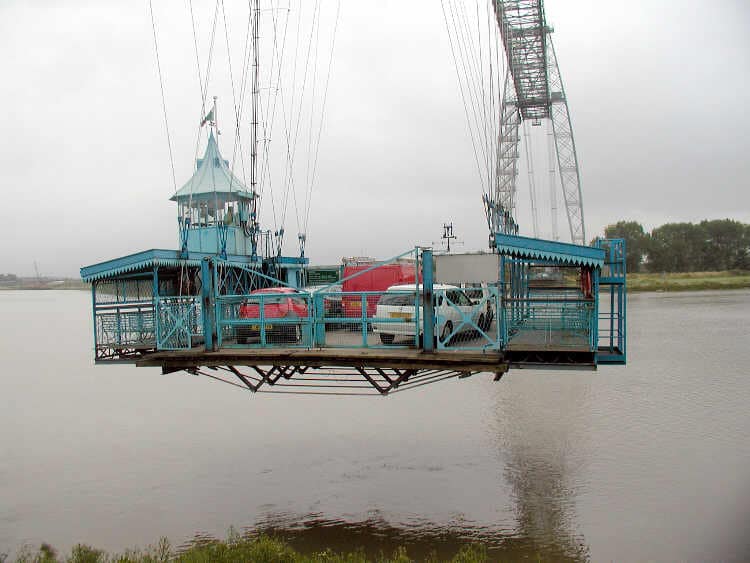 The Newport Transporter Bridge is located at the lowest crossing point of the River Usk in Newport, South East Wales. With a total length of 236 and a tower height of almost 74 m, it is the largest historic transporter bridge remaining in Britain.
Towards the end of the 19th century, the town of Newport was experiencing a period of fast economic expansion and development. A population boom was taking place, with marked urban growth in the southern areas of Newport. The Lysaght's Orb steelworks had just been opened, employing 3000 workers by 1901. To cope with these great changes, the Borough Council decided to build a new bridge on the river Usk.
Designing a bridge for this location presented a considerable challenge. The banks of the river are very low at this point. To allow vessels to pass underneath, a conventional bridge would require long, steep ramps. A ferry would also be unsuitable: at almost 14m, the tidal range of the river Usk is one of the highest in the world. At low tide, a ferry would not be able to dock.
The Borough Engineer at the time, Mr RH Haynes, had heard of French engineer Ferdinand Arnodin, inventor of the transporter bridge. Mr RH Haynes travelled to Rouen to see an example of Arnodin's work. Arnodin's transporter bridge was essentially an 'aerial ferry'. It consisted of two towers on either side of the river, supporting a horizontal beam from which a transporter platform, or 'gondola', was suspended. The gondola was electrically powered to carry passengers across the river. The height of the towers allowed transport vessels to pass underneath the bridge comfortably. Mr RH Haynes was satisfied that this was the perfect design for the river Usk.
In 1900, Arnodin's design obtained parliamentary approval. Construction of the Newport Transporter Bridge began in 1902, and it was finally opened to the public on 12th September 1906. At the opening ceremony, the bridge was described as "A giant with the grace of Apollo and the strength of Hercules."
The historical importance of the Newport Transporter Bridge was officially recognised when it was conferred Grade I listed status. Today, it is the largest and oldest bridge of its kind in Britain, as well as the largest of the eight historic transporter bridges remaining in the world. It is an excellent example of innovation in structural engineering design.