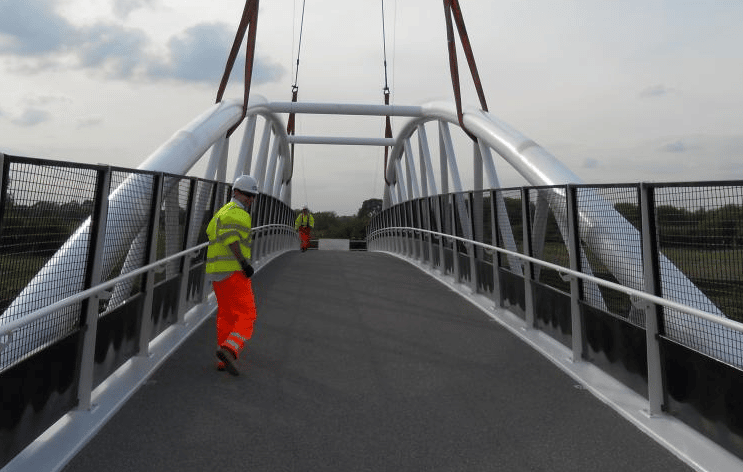 If you have an outdoor area exposed to the weather such as a bridge, marine deck or boat deck, then you know the importance of weatherproofing and providing an anti-slip surface for safety. Traffideck provides both of these services in one easy and safe application. Traffideck is an elastomeric, waterproofing solution that is an excellent alternative to other more traditional methods.
You can use Traffideck in a variety of situations, weather conditions and materials. Unlike some other spray-on products, Traffideck can be applied in cooler weather conditions, making it extremely flexible. Odourless and completely seamless, Traffideck's membrane sets instantly and the surface can be opened to normal traffic within 2 hours, minimizing the impact on the accessibility to the area of application. The product extends the life of steel, concrete and asphalt surfaces by providing impact resistance and protection from the weather while also making an otherwise slippery surface non-slip. As well Traffideck's elastomeric Flex membrane has the ability to fill and bridge gaps in the surface up to 2.5 mm wide, giving the surface a revitalized appearance. Traffideck has a class 1 fire rating, making it a very safe product to use on any surface. Different colours are available. In addition, the Traffideck system is accredited by the British Board of Agrément (BBA), ensuring high quality.
Traffideck decreases wear on any exposed, exterior surface. This reduces the chance for cracks, damage and other unsafe conditions. Through this and the anti-slip surface, Traffideck is an excellent product to increase the safety of an area while improving appearance and longevity.
If you want to keep your bridges and/or ship decks safe this winter, get in touch and we can discuss what would be right for you.