UHW: Helipad
SYNOPSIS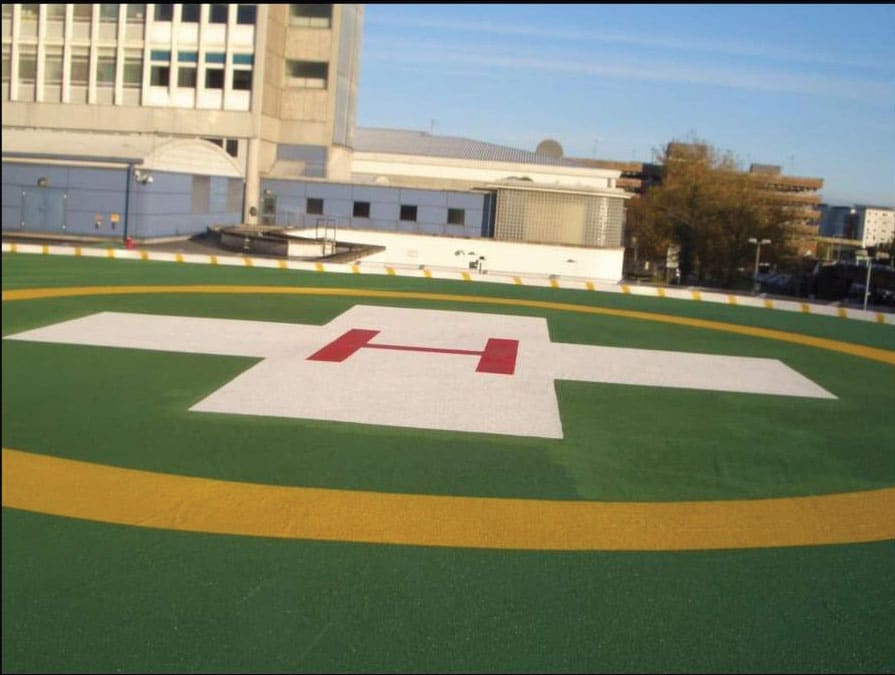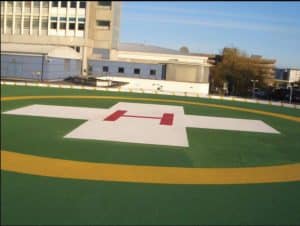 Thortech International were commissioned to resurface the
helipad at the University Hospital of Wales, one of Wales' largest and busiest hospitals with over 1,000 beds.
The project involved shot blasting, repairs to concrete and the instalment of the Traffideck surfacing system.
BRIEF
The previous helipad paint system was failing and the concrete beneath was damaged. The Thortech International team were called in to repair and resurface the area, to allow for the safe landing of helicopters and transporta­tion of patients to the building.
Thortech International proposed Traffideck, a system which comprises several layers. This material includes a water­proof system to protect the concrete beneath, an anti-slip system to ensure safe helicopter landings and transportation and a heavy duty top coat incorporating several colours to provide identification of the
landing area. This particular type of system has proved to be hardwearing and extremely durable in the toughest of offshore environments.
PROCESS
Prior to application of the E4 FC Primer, the 550m2 concrete surface was enclosed shot blast to remove any remaining old surfacing and to clean up the concrete. The E4 FC Primer then received Chelford 30 Quartz to give the wearing course a good key. Repairs were also made to several damaged concrete areas using an E4 FC Epoxy Screed.
Traffideck Grip 4000X was then applied and dressed in a 12 Mesh Dynagrip aggregate to provide the anti-slip finish. Following curing, the loose aggregate was removed and an industrial 2 part Epoxy paint was applied to give colour and seal the aggregate.
The previous design and colour scheme was replicated to avoid confusion. With material to spare, Thortech International also refreshed the walkways to the building, ensuring the whole of the access area was completed.
OUTCOME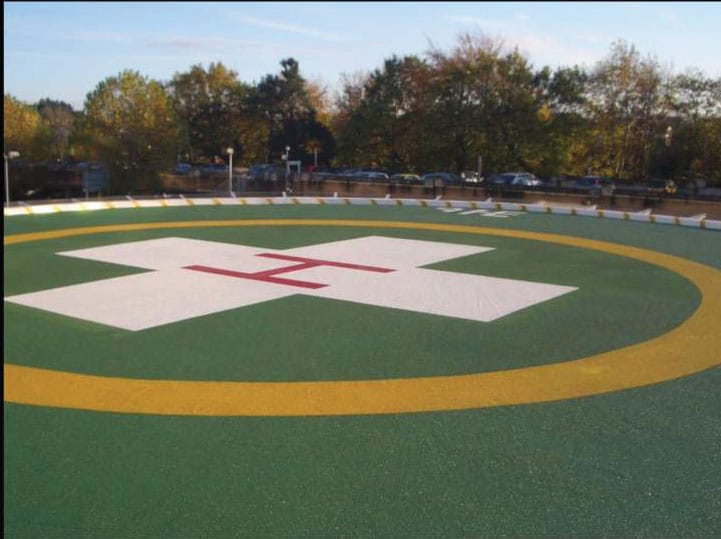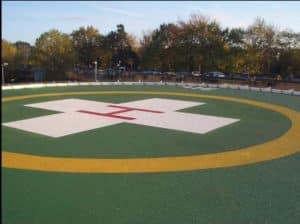 All work was finished on time and on-budget, with minimum disruption to hospital operations. The helipad now continues to provide for safe and efficient emergency transport to the hospital.
Thortech Bridges & Marine

Unit 7-8, Lamby Way Workshops,
Lamby Way,
Cardiff
CF3 2E0
+44 (0)29 2048 9100