Pacific Dawn Cruise Ship
SYNOPSIS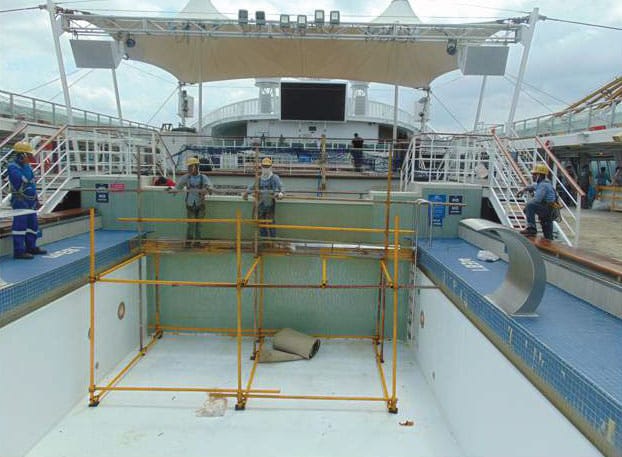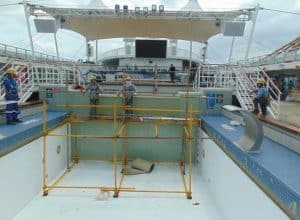 The Pacific Dawn is a cruise ship owned and operated by P&O Cruises Australia. She was built in 1991 by the Fincantieri shipyard in Monfalcone, Italy as Regal Princess. The ship was ordered by Sitmar Cruises but delivered to Princess Cruises, and later sold to the fleet of P&O Cruises Australia.
The vessel's owners required a specialist flooring contractor to install and convert a swimming pool into a children's wet soft play area, Thortech International Bridges and Marine Ltd were appointed to carry out the work.
The project was carried out and completed in March 2017.
BRIEF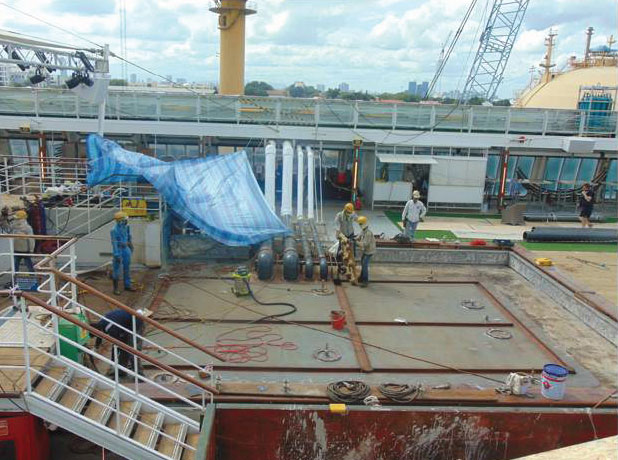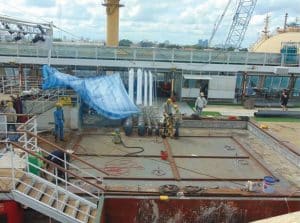 Following an extensive refurbishment, Regal Princess was renamed Pacific Dawn on 8 November 2007 by Olympic gold medallist Cathy Freeman, Pacific Dawn operates from Australia to South Pacific destinations.
In order to accommodate the many younger passengers travelling on the cruise ship a wet soft-play area was commissioned to be installed instead of an existing swimming pool.
PROCESS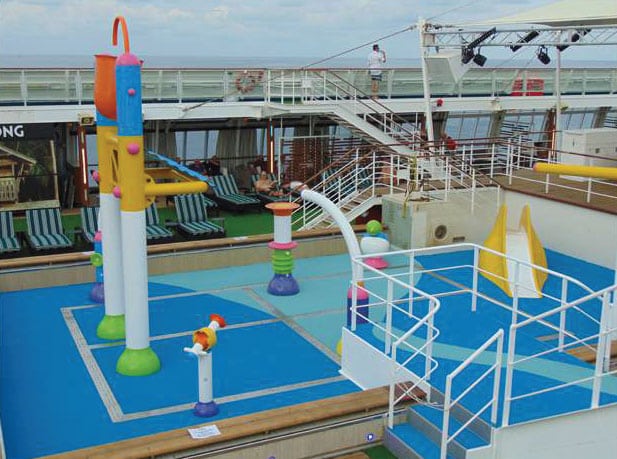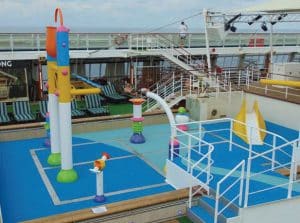 At the outset, steel and concrete were put in place of the swimming pool to make a solid substrate. Thortech International undertook the preparation of the steel substrate by hand grinder to an SA3 standard, the surface was then adequately cleaned followed by priming. After initial curing, the application of anti-skid surfacing was applied and dressed with 1 >3mm turquoise and light blue rubber crumb.
With air temperature averaging 38 degrees & deck temperature between 30 and 60 degrees depending on the time of the day, the life of the product was between 15-25 minutes before curing completely, so efficiency was paramount in the application. After curing excess crumb was swept off and the final water features were installed in place.
OUTCOME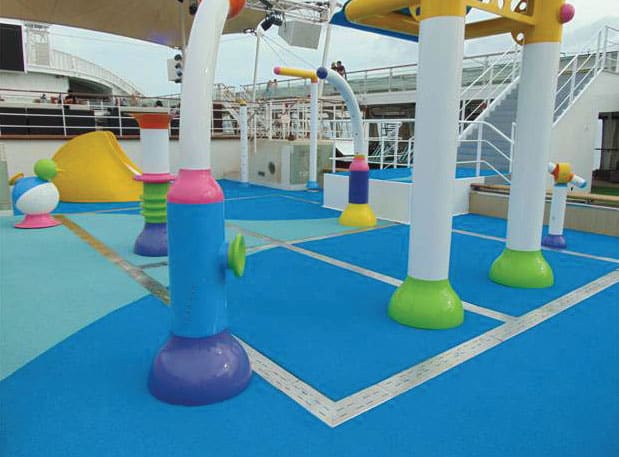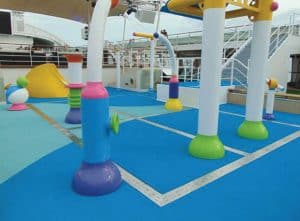 Thortech International completed the installation of the new soft wet play surfacing in March 2017; despite the delays in the accessibility, a finalised design was constructed to coincide with the restricted working hours. The project was completed on schedule and is a huge success, currently providing the platform for entertainment for the many passengers of the Pacific Dawn.
Thortech Bridges & Marine

Unit 7-8, Lamby Way Workshops,
Lamby Way,
Cardiff
CF3 2E0
+44 (0)29 2048 9100