Isle of Man, Terminal 5
SYNOPSIS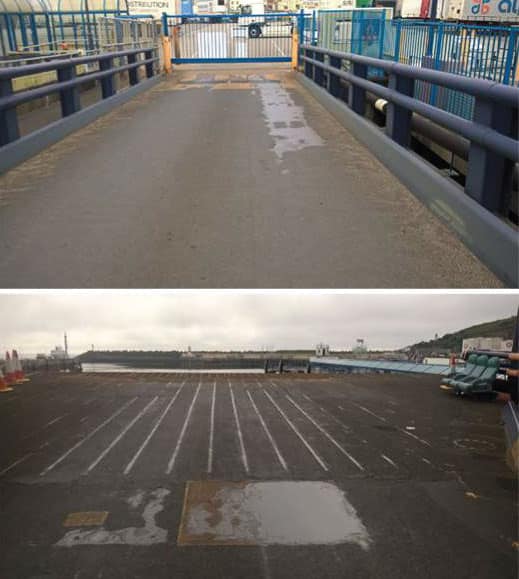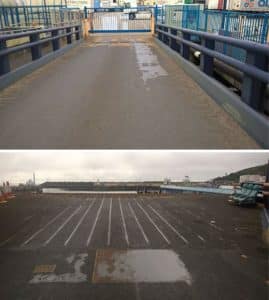 Thortech International successfully completed a large scale project in Douglas, Isle of Man. Terminal 5 had a worn out/rough surface which was damaged with no anti-slip properties. It is the main access for the Isle of Man's residents and businesses alike in the island's busy shipping schedule.
Thortech International were commissioned to prepare & install Resin Bonded surfacing to the whole area.
The project was completed in November 2016.
BRIEF
Terminal 5 Linkspan in Douglas totalled 500m2 and is used by forklift trucks, delivery lorries and general pedes­trian traffic. During inclement periods there were concerns with the safety of this area. The existing surface had been repeatedly overlaid for several years without complete removal from previous contractors. So the current substrate at the bottom of the span was going up to thickness and depth of about 60mm in places. This was also applied using a now banned product in the UK, Cicol ET causing further implications to methods of removal.
PROCESS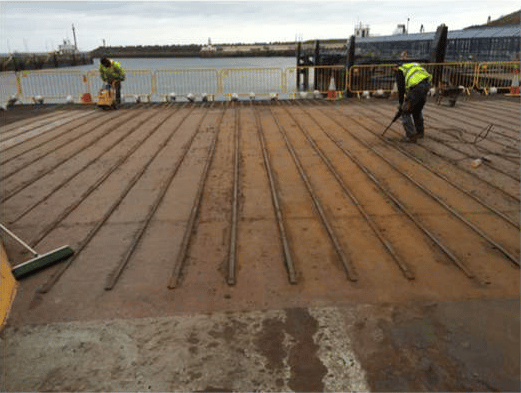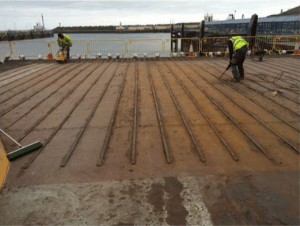 Due to the current substrate and its hazardous technical properties once heated; removal had to be diverse to usual standard methods because of this obvious risk, so Thortech International undertook the removal of the existing surface by Hilti Breaker and Kango.
Once removed, extra care was taken to ensure there was no damage to existing Chevron Bars in place with 12 new bars being cut out and installed.
At the same time this was going on, the steel surface was being prepared by grinders and floor scarifiers to an SA3 standard; we were unable to blast with the bars in place in this area due to current width dimensions. While the rest of the span received shot blasting to a SA2.5 standard. primer was then applied to
After the primer had cured, the application of anti-slip surfacing was applied and dressed with 3>5mm Emery Bauxite. A walkway was installed on the near side of the span to ensure safe passage.
After curing a road sweeper was on site to remove all loose aggregate.
OUTCOME
Thortech International completed the installation of the new deck surfacing on the 1st of November 2016, working directly for the Isle of Man Government. Despite the interlude of inclement weather, the project was completed both on schedule and within the client's budget.
'Just a quick message for you and your team to say thank you for the excellent work that was carried out on our link-span, the surface has had many people remark mentioning how good the finish looks and how well the whole job flowed from start to finish. The team who removed the old surface worked extremely hard to remove our old deck surface and although we had one day of rain the surfacing work finished on time and on budget.
Thortech Bridges & Marine

Unit 7-8, Lamby Way Workshops,
Lamby Way,
Cardiff
CF3 2E0
+44 (0)29 2048 9100