Dover Port: Berth 3
SYNOPSIS
Thortech International undertook a re-surfacing project at one of the world's busiest roll-on roll-off ferry ports.
Bimagrip anti-slip surfacing was removed and re­placed on the double-decker linkspans at Berth 3.
The work was completed in stages from December 2011 to August 2012.
BRIEF
Thortech International were to work in conjunction with Hollandia, a major international civil engineering company, to remove and reinstall a Bimagrip LS anti-slip system, dressed with a 3-5mm Dynagrip at Berth 3, Dover port. The work was to be carried out on each of the double-decker linkspans.
PROCESS
The first step of the project involved the removal of 850m2 of surfacing from the upper deck linkspan, to be followed by the removal of 400m2 of surfacing from the lower deck. This stage of the work was completed in December 2011.
Prior to re-surfacing, the linkspans were to undertake testing and general maintenance.
When work re-commenced, it was completed in stages to coordinate with and work around the many other engineering contractors on site.
The steel deck surfacing was shot blast before the Bimagrip LS anti-slip system was applied. This was dressed with a Dynagrip 3-5mm aggregate, with the loose aggregate being swept off by a road sweeper, prior to completion.
OUTCOME
The project was completed in August 2012, on schedule and without any problems or unexpected interrup­tions to port operations. Berth 3 now continues to run smoothly and more safely, with its new linkspan anti-slip surfacing.
Last year, almost 2 million haulage vehicles passed through the port with around 2.5 million cars and 12 million passengers catered for.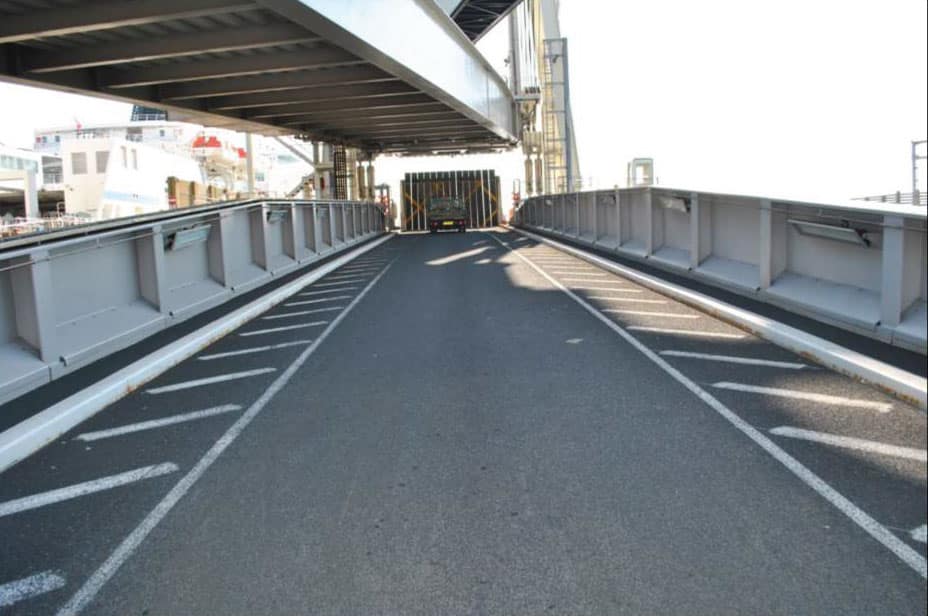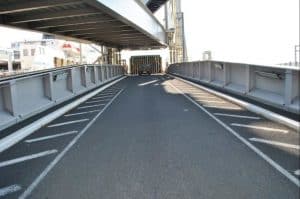 Thortech Bridges & Marine

Unit 7-8, Lamby Way Workshops,
Lamby Way,
Cardiff
CF3 2E0
+44 (0)29 2048 9100